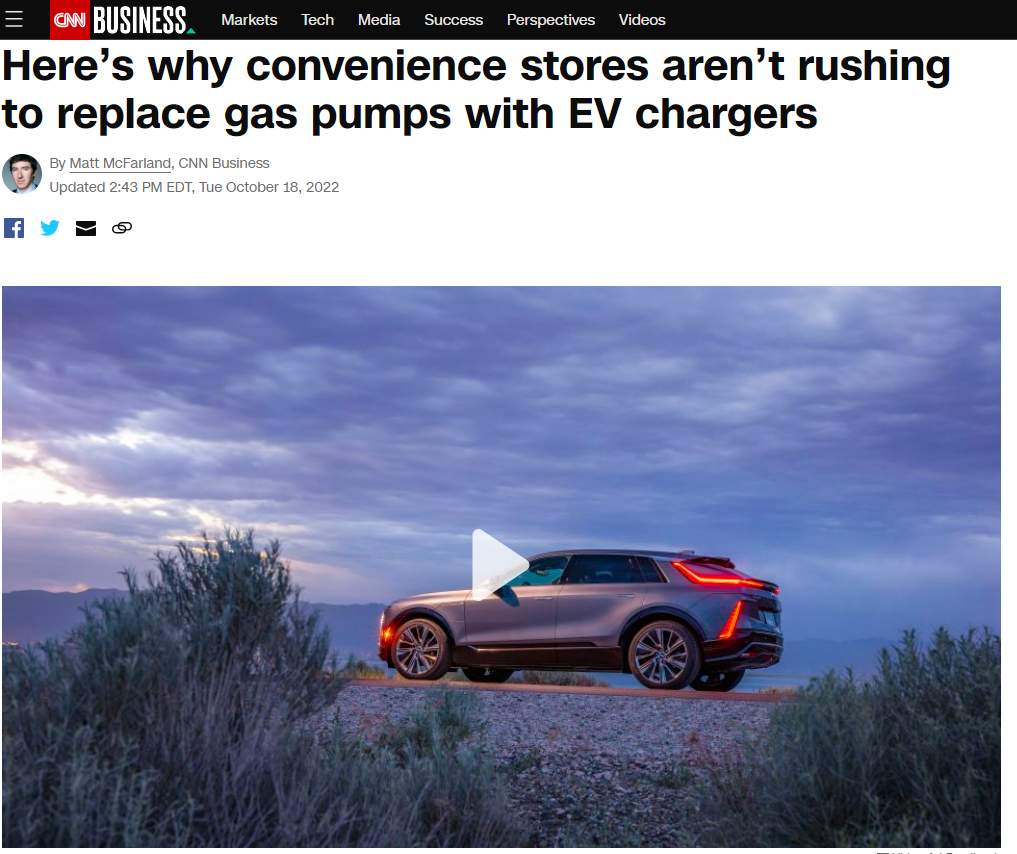 ---
CNN Highlights Utility Interference in EV Charging Marketplace
CNN Reporter Matt McFarland dove into the economics of EV charging in a recent piece for CNN Business. It is a story that is worth your time, and you should share it with friends.
"Gas stations with convenience stores seem like an obvious location for electric vehicle chargers. Drivers could grab a drink or snack while waiting for their vehicle to charge. But despite available federal funding to build EV chargers, many stores aren't biting," McFarland writes. "The reason? High electric utility fees on charging stations make them unappealing – and unprofitable – for convenience store owners."
McFarland explained demand charges to the reader, and he highlighted some of the major utilities that are using ratepayer funds to build utility-owned EV charging stations.
And while many stories on the EV charging marketplace treat federal subsidies as the chief solution, McFarland focused on the greater long-term problem facing the marketplace: A lack of profit opportunity.
"The bipartisan infrastructure bill is providing $7.5 billion to help pay for electric vehicle chargers that could help gradually replace gas pumps," the story states. "But sky-high fees combined with competition from utilities and spotty electric vehicle uptake have dampened interest from convenience stores in building out this essential infrastructure."
McFarland also highlighted some of the major utilities that are attempting to use ratepayer funds to subsidize utility-owned EV charging stations – mentioning Georgia Power's plan, along with Xcel Energy in Minnesota.
CAP Spokesman Ryan McKinnon was quoted explaining the impact that a utility can have on the confidence in the private marketplace.
"No private business is going to risk hundreds of thousands of dollars of buying and installing and maintaining and operating EV charging stations if there's the risk or reality of Georgia Power or Xcel or Dominion [Power] doing the exact same thing down the street for half the price," McKinnon said.