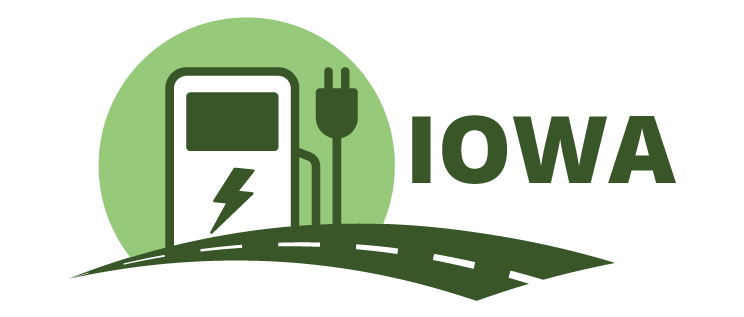 Charge Ahead Partnership is advocating for a competitive and level playing field for all retailers who want to provide publicly available EV charging in Iowa. The fastest and most economical way to build out a robust charging network in Iowa is through a market-based approach which removes the barriers that are disincentivizing private investment in EV charging infrastructure. We aim to work collaboratively with all stakeholders to find commonsense solutions that will unlock the market's full potential without unfairly shifting the cost burden to non-EV users – particularly those in low- and fixed-income communities.
As more Iowans consider shifting to an EV, the issue of where they will charge their vehicle is becoming top of mind. Range anxiety – the fear of not knowing where you can charge while traveling outside of your local area – is deterring many from making that leap from gas-powered to electric vehicles. As is the case with gas pumps today, there should be no reason why charging stations cannot be found with the same ease, convenience and amenities that drivers have come to expect. Unfortunately, there are policies in place that are stifling the growth of EV charging stations.
To date, electric utility companies have largely controlled the roll-out of EV charging stations. However, the results have not yielded the best results for consumers. Across the country, power companies have sought authority from regulators to begin construction of EV charging stations paid for largely by their customers through home and business electric bills. This subsidizing of EV charging stations, combined with the current rate structure for EV charging, has prevented third parties from successfully entering the EV charging market and slowed the expansion of the EV charging network. As a result, the standards of choice, quality, safety, and affordability that drivers have grown accustomed to in the established refueling network have not been met by the existing EV charging infrastructure.
In order to overcome these barriers, we need a quick path to a fast charge. Iowa has an opportunity to develop policy that will allow the state to continue to support the growing EV market and ensure that EV drivers of today and tomorrow can conventionally, reliably and efficiently recharge their vehicles and get to their destination. Through legislation, Iowa can lay the groundwork to be a leader in EV technology and innovation.
Specifically, Charge Ahead Partnership is supporting legislation that:

Incentivizes private investment in Iowa's EV charging infrastructure. Specifically, bills that safeguard against monopolistic utility ownership of charging solutions.


Enables utility ownership of EV chargers, but only through a separate subsidiary subject to the same rules and regulations as private investors.
2023 Iowa Legislative Session Update:
Iowa House Study Bill 165 was introduced in the 2023 Session. HSB 165 would have incentivized private investment in Iowa's EV charging infrastructure by ensuring that private businesses offering EV charging were competing on a level playing field with electric utilities. Specifically, HSB 165 would have permitted power companies to own and operate EV chargers, but stipulated that these chargers must be operated by a separate subsidiary of the power company that cannot be cross-subsidized with ratepayer funds and operates under the same rates, terms, and conditions as their competitors.
Ultimately, HSB 165 did not make it out of committee in time to meet the Iowa legislature's procedural deadlines. Charge Ahead Partnership remains excited to advocate for policy change in Iowa that will encourage private investment in the state's EV charging network, leading to a network that best meets the needs of EV drivers.
Join the effort to expand the EV charging network in Iowa quickly, efficiently and fairly. Sign up to support the cause and stay connected.